OUR STARTING POINT
A number of projects have already been set up to support cancer patients during radiotherapy, thanks to the use of technological tools and equipment at home. These have produced benefits in terms of compliance and overcoming psychological problems such as anxiety and depression related to the disease.

WHY IT IS IMPORTANT TO ACT NOW
Available evidence shows that Covid-19 is a rapidly-spreading virus and is particularly dangerous for the most vulnerable people, such as patients with cancer. As well as having to cope with the trauma of their diagnosis, cancer patients now have the additional worry of catching the virus and therefore being unable to receive more intensive treatment. The aim of this project is to make it possible for cancer patients to continue to receive their treatment or the health care provided by their cancer centre without increasing their risk of catching Covid-19.
The project, run by the Gemelli ART, Oncological Radiotherapy Centre at the Gemelli University Hospital, will come online immediately, in view of the state of emergency, and will be further developed in future to assist cancer patients remotely.
WHO WILL BENEFIT FROM THE PROJECT?
Maintaining the three-way relationship (cancer specialist - GP/paediatrician - patient) is essential in order to reduce the distance between patient and therapy to a minimum, an aspect made even more difficult by the health measures that have been put in place to prevent the spread of Covid-19.
Now more than ever before, patients must not feel isolated.

THE SUBSTANCE OF THE PROJECT
Keep in Touch seeks to maintain a direct link between medical specialists, GPs/paediatricians, patients and their families by establishing a system of tele-consultations and tele-relationships. Keep in Touch is based on the use of Digital Health Care for vulnerable patients and is a novel development model in the field of Health and Welfare.
Five tele-consultations per day, at least 1,000 per year, for the benefit of all patients for whom the risk of being infected with Covid-19 is greater than the need for a face-to-face oncological evaluation.

KEY PRINCIPLES
The key principles guiding the project are:
• Response to the Covid-19 emergency
• Develop the project at the level of the cancer patient's daily life
• Support the relationship between cancer specialist and GP/paediatrician to meet all the patient's health care needs
• Support the remote doctor-patient relationship

IMPACT OF THE PROJECT
The challenge in recent years has been the development of personalised medicine which, by studying the person, enables the use of predictive models to support clinical decisions based on the thousands of covariates in respect of each patient. From this perspective, tele-medicine allows a centre of reference to coordinate the activities of families and home care providers: treatment and care schedules, clinical information provided by the doctor of reference, recommendations for psychological support discussed by the multi-disciplinary clinical team are sent to mobile devices (smart phones and tablets) which, in turn, are used to report back to the coordination centre about activities undertaken and send information that might be helpful for supporting the patient or family. Care is provided continuously for the entire chronic stage during which the patient receives eradication therapy and throughout the monitoring phase. This involves a considerable amount of multi-disciplinary support, so that the patient can enjoy the best state of health and quality of life possible given his or her clinical conditions.
A system of collaboration between the cancer specialist and GP/paediatrician envisages a programme of measures, coordinated and shared in terms of their clinical content, stored in electronic health records. While convalescing or undergoing courses of treatment, patients may encounter short or long-term side effects which, combined with the symptoms of their disease and awareness of its existence, could undermine their quality of life.

WHAT IS THE OBJECTIVE?
Principal OUTCOME: to reduce the number of patients who could be infected with Covid-19 and the subsequent death rate among such patients.
Secondary OUTCOME: to reduce the level of stress for patients forced to stay at home, without lowering the standard of health care or undermining cancer outcomes.
OUTCOME: more patients treated remotely, with a reduction in indirect costs such as outpatient evaluations, travel, psychological burden, etc.

WHAT WILL WE BE ABLE TO MONITOR WITH KEEP IN TOUCH?
During tele-medicine consultations it will be possible to examine:
• Clinical reports
• Consultations
• Second opinions requested directly by the GP
• Multi-disciplinary clinical decisions by tumour boards
• Discharge letters
• End of radiotherapy treatment reports
• Schedule of appointments for diagnostic tests, medical examinations and therapy sessions
• Appointments for tele-consultations (via video conference) with GPs
The reference value for MONITORING activities will be set based on the number of follow-up visits performed via tele-conference as opposed to face-to-face visits.

EASE OF USE FOR PATIENTS
The use of advanced technology will be complemented by simpler tools, to meet the needs of people who are not familiar with the use of apps or more complex software. We refer in particular to elderly patients, for whom assistance may also be provided over the phone.
Clinical and technological expertise are of fundamental importance for the success of this high-quality project: the ART Radiotherapy Division at the Gemelli Hospital guarantees the availability of these professional skills.

SHORT AND LONG-TERM ACTION PLAN
During the Covid-19 emergency, timely intervention (7-10 days from delivery) will enable us to stop cancer patients from feeling abandoned and provide a clinical response. In terms of incorporating the project into patients' daily life, longer-term measures (3-6 months) will enable us to develop robust digital health tools for providing health care at a distance.
The project is also beneficial for individuals or indeed societies that face economic challenges, since the provision of services through tele-medicine achieves savings in terms of costs and travel.
The multimedia clinics used for the project will be set up at the Fondazione Policlinico Agostino Gemelli in Rome, so the state of the infrastructure does not pose any specific project-related risks.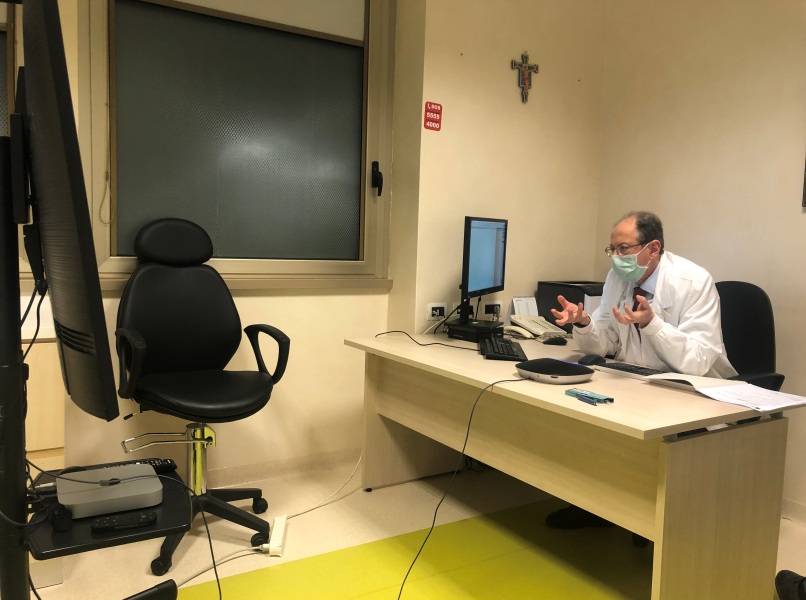 Name of the project: Keep In Touch Project -Teleconsultation System in Radiation Oncology from emergency to daily life
Name of the proposing entity: Associazione Attilio Romanini Onlus
Area of intervention: Covid-19 Emergency